Welcome to Spiritual AF Sundays, the podcast that explores the spiritual side of everything! Join your host, Jessica Karels (aka The Mystic Geek), a witch with 20+ years of experience in both the corporate and magical worlds, as we dive into a wide range of topics that go beyond the surface-level talking discussed by pundits and on social media. Queer, polyamorous, and neurodivergent - Jessica is no stranger to challenging the status quo. Designed for the slightly geeky and curious souls who seek a deeper understanding, Spiritual AF Sundays invites you to join our exploration of spirituality, religion, and politics. We go beyond the shallow back-and-forth on social media and provide thought-provoking insights that inspire personal growth and transformation. In each episode, we challenge societal norms and assumptions, tackle hot-button topics like politics and artificial intelligence, and delve into subjects like magic and witchcraft, self-improvement, and more. We believe that spirituality and real-world issues are intertwined, and are not afraid to ask the difficult questions about how one affects the other. With weekly episodes, each around 30 minutes, we bring you engaging discussions and interviews with guests from diverse backgrounds. Whether you're a seasoned spiritual seeker or just starting your journey, this podcast offers a fresh perspective and invites you to expand your horizons. Join us on this transformative journey, and don't forget to leave a review to let us know your thoughts. Let's dive deep into the spiritual realms and challenge the status quo.
Episodes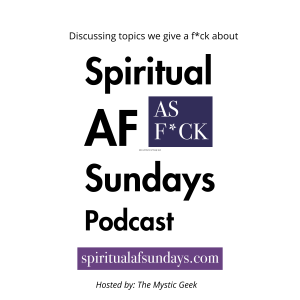 Sunday Dec 25, 2022
Sunday Dec 25, 2022
One of the arguments used to defend the legitimacy of a belief or practice is called the appeal to tradition.  This is a view that something must have existed for a long time to be valid. This stance comes up when examining faiths outside of the "mainstream culture," such as Wicca and modern forms of Paganism. However, does this argument of appealing to tradition hold up when looking at Christmas?
In this episode, we'll examine how the celebration of Christmas has changed from its earliest roots to its modern form.  What does the evolution of Christmas over the past nearly two millennia say when it comes to current attempts to revitalize earth-based religions? Is older necessarily better? And how much influence is okay before a belief system is seen as deviating too far from its core? 
Get the full show notes and transcription here.
Audio listeners can snag the slides here.