Welcome to Spiritual AF Sundays, the podcast that explores the spiritual side of everything! Join your host, Jessica Karels (aka The Mystic Geek), a witch with 20+ years of experience in both the corporate and magical worlds, as we dive into a wide range of topics that go beyond the surface-level talking discussed by pundits and on social media. Queer, polyamorous, and neurodivergent - Jessica is no stranger to challenging the status quo. Designed for the slightly geeky and curious souls who seek a deeper understanding, Spiritual AF Sundays invites you to join our exploration of spirituality, religion, and politics. We go beyond the shallow back-and-forth on social media and provide thought-provoking insights that inspire personal growth and transformation. In each episode, we challenge societal norms and assumptions, tackle hot-button topics like politics and artificial intelligence, and delve into subjects like magic and witchcraft, self-improvement, and more. We believe that spirituality and real-world issues are intertwined, and are not afraid to ask the difficult questions about how one affects the other. With weekly episodes, each around 30 minutes, we bring you engaging discussions and interviews with guests from diverse backgrounds. Whether you're a seasoned spiritual seeker or just starting your journey, this podcast offers a fresh perspective and invites you to expand your horizons. Join us on this transformative journey, and don't forget to leave a review to let us know your thoughts. Let's dive deep into the spiritual realms and challenge the status quo.
Episodes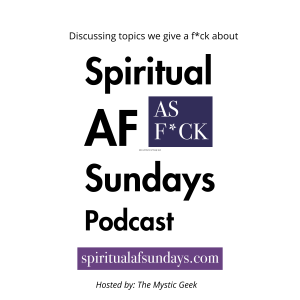 Sunday Dec 18, 2022
Sunday Dec 18, 2022
Over the past few years, artificial intelligence has made leaps and bounds in its abilities as it redefines how we interact with technology. Such things as robotics, machine learning, natural language processing, and big data are only a few ways that AI has been transforming virtually every industry out there. If your industry deals with any data, any type of trying to predict what people want, it likely uses AI.

As for common concerns regarding this emerging technology, it's usually apprehension around a couple of different things. Job security or the ability for people to continue making an income, privacy issues when it comes to that data, even copyrights when it comes to that. And then also accuracy regarding these data models, making decisions or predictions.
And these are all valid issues to consider. But perhaps the most thought-provoking question that AI raises today is how it changes our understanding of consciousness. So we're going beyond the practical concerns, starting to go philosophical. Will AI eventually have any autonomy? Will it have free will? Can we teach it to make moral decisions? And then flip to focus, what does AI's development say when it comes to traits that we initially thought were either uniquely human or unique to living beings, like creativity, innovation, complex decision-making, and empathy?
Get the full show notes and transcription here.
Audio listeners can snag the slides here.