Welcome to Spiritual AF Sundays, the podcast that explores the spiritual side of everything! Join your host, Jessica Karels (aka The Mystic Geek), a witch with 20+ years of experience in both the corporate and magical worlds, as we dive into a wide range of topics that go beyond the surface-level talking discussed by pundits and on social media. Queer, polyamorous, and neurodivergent - Jessica is no stranger to challenging the status quo. Designed for the slightly geeky and curious souls who seek a deeper understanding, Spiritual AF Sundays invites you to join our exploration of spirituality, religion, and politics. We go beyond the shallow back-and-forth on social media and provide thought-provoking insights that inspire personal growth and transformation. In each episode, we challenge societal norms and assumptions, tackle hot-button topics like politics and artificial intelligence, and delve into subjects like magic and witchcraft, self-improvement, and more. We believe that spirituality and real-world issues are intertwined, and are not afraid to ask the difficult questions about how one affects the other. With weekly episodes, each around 30 minutes, we bring you engaging discussions and interviews with guests from diverse backgrounds. Whether you're a seasoned spiritual seeker or just starting your journey, this podcast offers a fresh perspective and invites you to expand your horizons. Join us on this transformative journey, and don't forget to leave a review to let us know your thoughts. Let's dive deep into the spiritual realms and challenge the status quo.
Episodes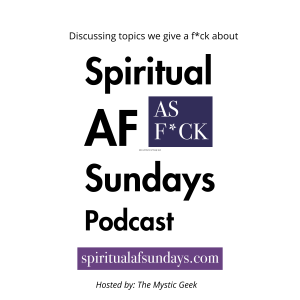 Sunday Apr 09, 2023
Sunday Apr 09, 2023
When you think about the concept of gratitude practices, what comes to mind? Do you envision cute little journals prompting you to share what made you smile that day? Or perhaps people trying to find what to feel grateful about, even if the world around them is crumbling? Or perhaps, you haven't had TIME to think about such things because you've been so darn busy!

In this episode of Spiritual AF Sundays, we bring on guest Emma Hull, transformational life coach, to talk about how easy it is to integrate gratitude practices into your life. Emma will share the science behind gratitude, and how you can integrate these practices into your day to day life - it's as simple as brushing your teeth! 
About our guest:
Emma Hull is a transformational life coach, reiki healer and yoga teacher. She led what some might see as a charmed life with a successful career, husband, lake house and ski chalet along with all the trappings. But she wasn't happy and continued to battle anxiety and depression daily.
Her life transformed when she realized that she had spent her whole life working towards a dream that wasn't even hers. When she began trusting her intuition she found the inner strength to first imagine, and then take steps to realize a whole new life.
She now lives life her way, a spacious life that is in alignment with her values, and spends her days fulfilling her Soul Purpose: Inspiring and guiding you to create a life you are excited to wake up to every day! 
Find Emma online:

Support our show:
Subscribe to this channel to receive notifications of upcoming episodes
Share this episode with your friends
Leave a review on Apple Podcasts so that more people find us: https://podcasts.apple.com/us/podcast/spiritual-af-sundays/id1660473504