Welcome to Spiritual AF Sundays, the podcast that explores the spiritual side of everything! Join your host, Jessica Karels (aka The Mystic Geek), a witch with 20+ years of experience in both the corporate and magical worlds, as we dive into a wide range of topics that go beyond the surface-level talking discussed by pundits and on social media. Queer, polyamorous, and neurodivergent - Jessica is no stranger to challenging the status quo. Designed for the slightly geeky and curious souls who seek a deeper understanding, Spiritual AF Sundays invites you to join our exploration of spirituality, religion, and politics. We go beyond the shallow back-and-forth on social media and provide thought-provoking insights that inspire personal growth and transformation. In each episode, we challenge societal norms and assumptions, tackle hot-button topics like politics and artificial intelligence, and delve into subjects like magic and witchcraft, self-improvement, and more. We believe that spirituality and real-world issues are intertwined, and are not afraid to ask the difficult questions about how one affects the other. With weekly episodes, each around 30 minutes, we bring you engaging discussions and interviews with guests from diverse backgrounds. Whether you're a seasoned spiritual seeker or just starting your journey, this podcast offers a fresh perspective and invites you to expand your horizons. Join us on this transformative journey, and don't forget to leave a review to let us know your thoughts. Let's dive deep into the spiritual realms and challenge the status quo.
Episodes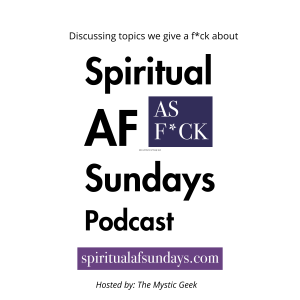 Sunday Aug 27, 2023
Sunday Aug 27, 2023
Today, we're taking you on a literary journey to the heart of New Orleans, the city famous for its vibrant culture, tantalizing cuisine, and haunting tales. Our guest is none other than Ryan Winter, an exceptional talent in the realm of queer horror. Ryan's work masterfully captures the intersection of horror and sexuality, transforming fear into a powerful exploration of identity and desire.
His tales, inspired by the rich history and diverse culture of New Orleans, are not just about scares. They delve into the complexities of the human experience, the fears we hide, the desires we nurture, and the secrets we keep. Today, we'll be unpacking his inspirations, discussing his unique writing style, and learning about his journey as a writer in the gay and queer horror genre.
You're about to step into a world where horror meets sex, diversity, and the unmistakable flavor of New Orleans.
About our guest:
Ryan Winter is a lover of the macabre, salacious words and spicy foods. He hails from the strangeand mysterious world of south Louisiana. drawing inspiration from his unique surroundings.
He's written a well-recieved children's book named "New Orleans Goose" under the pen name, Ryan Adam. It was heavily promoted around Louisiana including mutliple book signings, festivals, school presentations, and conventions. It was a recipient of the prestigious New Orleans Book Festival.
Ryan has published numerous short stories, mostly horror and dark fantasy before his first novel, "Ravish", debuted through Amazon's KDP Publishing. His second novel, "Wake the Devil", is a true crime/ paranormal based upon the grisly, unsolved murders of the Axeman in 1918 New Orleans!

Find Ryan Online:
Facebook: https://www.facebook.com/RyanWinterFanPage
Twitter: https://twitter.com/writeRyanWinter
Instagram: https://www.instagram.com/ryanwinterauthor/
Support our show:
Subscribe to this channel to receive notifications of upcoming episodes
Share this episode with your friends
Please leave a review on Apple Podcasts so that more people find us: https://podcasts.apple.com/us/podcast/spiritual-af-sundays/id1660473504