Welcome to Spiritual AF Sundays, the podcast that explores the spiritual side of everything! Join your host, Jessica Karels (aka The Mystic Geek), a witch with 20+ years of experience in both the corporate and magical worlds, as we dive into a wide range of topics that go beyond the surface-level talking discussed by pundits and on social media. Queer, polyamorous, and neurodivergent - Jessica is no stranger to challenging the status quo. Designed for the slightly geeky and curious souls who seek a deeper understanding, Spiritual AF Sundays invites you to join our exploration of spirituality, religion, and politics. We go beyond the shallow back-and-forth on social media and provide thought-provoking insights that inspire personal growth and transformation. In each episode, we challenge societal norms and assumptions, tackle hot-button topics like politics and artificial intelligence, and delve into subjects like magic and witchcraft, self-improvement, and more. We believe that spirituality and real-world issues are intertwined, and are not afraid to ask the difficult questions about how one affects the other. With weekly episodes, each around 30 minutes, we bring you engaging discussions and interviews with guests from diverse backgrounds. Whether you're a seasoned spiritual seeker or just starting your journey, this podcast offers a fresh perspective and invites you to expand your horizons. Join us on this transformative journey, and don't forget to leave a review to let us know your thoughts. Let's dive deep into the spiritual realms and challenge the status quo.
Episodes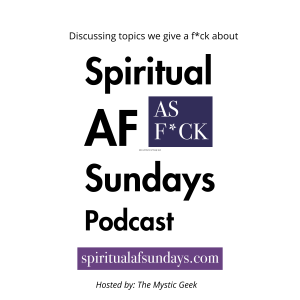 Sunday Sep 24, 2023
Sunday Sep 24, 2023
Spiritual bypassing is one of those hot-button topics in online spaces. Yet, like many nuanced things brought up on the Internet, it's definition is often left vague. For instance - setting limits on what you let into your life is okay, encouraged even. On the flip side, going full-on "good vibes only" is seen as spiritual bypassing. Resilience is lauded as a sign that we're able to manage the change around us, while also being criticized as a buzzword to cover up the seemingly systemic struggles that some believe we shouldn't be facing.
Where do we draw the line on what's okay versus not-okay for our spiritual growth?
In this episode of spiritual af sundays we bring on Katy Valias, a fellow misfit entrepreneur, to talk about spiritual bypassing. We go deep into what "spiritual bypassing" is, and take a critical look at some of the behaviors that are often accused of being signs of spiritual bypassing. We also take a look at how social media has been contributing to this issue, for better or worse. Finally, we talk about another often-misunderstood spiritual concept: Shadow Work. 
I had a lot of fun geeking out with Katy on these subjects, and I hope that you find this discussion insightful and that it supports your own spiritual explorations.
About our guest:
Katy Valias is a misfit entrepreneur who thrives on being authentic to herself as well as those she serves. She's currently building a cocktail accessory business and is diving into lost cocktails from the 1800's. She's also spiritual AF!
Where to find Katy online:
tiktok.com/@Katy_vee
instagram.com/katyvae
https://www.twitch.tv/proinhibition
Support our Show
Subscribe to this channel to receive notifications of upcoming episodes
Share this episode with your friends
Please leave a review on Apple Podcasts so that more people find us: https://podcasts.apple.com/us/podcast/spiritual-af-sundays/id1660473504