Welcome to Spiritual AF Sundays, the podcast that explores the spiritual side of everything! Join your host, Jessica Karels (aka The Mystic Geek), a witch with 20+ years of experience in both the corporate and magical worlds, as we dive into a wide range of topics that go beyond the surface-level talking discussed by pundits and on social media. Queer, polyamorous, and neurodivergent - Jessica is no stranger to challenging the status quo. Designed for the slightly geeky and curious souls who seek a deeper understanding, Spiritual AF Sundays invites you to join our exploration of spirituality, religion, and politics. We go beyond the shallow back-and-forth on social media and provide thought-provoking insights that inspire personal growth and transformation. In each episode, we challenge societal norms and assumptions, tackle hot-button topics like politics and artificial intelligence, and delve into subjects like magic and witchcraft, self-improvement, and more. We believe that spirituality and real-world issues are intertwined, and are not afraid to ask the difficult questions about how one affects the other. With weekly episodes, each around 30 minutes, we bring you engaging discussions and interviews with guests from diverse backgrounds. Whether you're a seasoned spiritual seeker or just starting your journey, this podcast offers a fresh perspective and invites you to expand your horizons. Join us on this transformative journey, and don't forget to leave a review to let us know your thoughts. Let's dive deep into the spiritual realms and challenge the status quo.
Episodes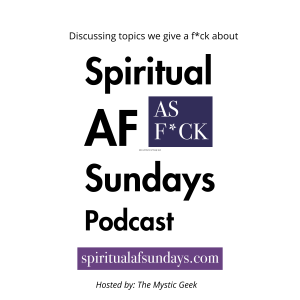 Sunday Apr 02, 2023
Sunday Apr 02, 2023
Some religions preach of a period known as the "end times" and use rather vivid prophecies and signs to mark that area. What if those messages weren't literal but were instead allegorical? And if we live in that timeframe, what does that mean for us and how we may want to live?
In this episode of Spiritual AF Sundays, author and data nerd Guy Morris will discuss his research into the symbolism within various end-time prophecies and the potential links between their messages and current events. He also shares how he uses his books to encourage us to think - if those prophecies are true, then what? 
Find Guy Morris Online:
Website: http://guymorrisbooks.com
Facebook: https://www.facebook.com/OfficialGuyMorrisBooks
Twitter: https://twitter.com/guymorrisbooks
Instagram: https://www.instagram.com/authorguymorris/

Support our show:
Subscribe to this channel to receive notifications of upcoming episodes
Share this episode with your friends
Leave a review on Apple Podcasts so that more people find us: https://podcasts.apple.com/us/podcast/spiritual-af-sundays/id1660473504